Just thought Id post some of my videos. Sorry no sound.
I re arranged the house, Gilbert had to check out where everything was.
Wish I had sound on the camera! Hes talking!
Mornings with Gilbert, my sister holding him.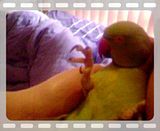 Gilbert playing, Yoda in the background looking out the window.
You want some Apple too?