Well i was very happy sitting myself and then daddy come up with this lid thing and called it a cup. Daddy told me to hold it and put a treat in it for me (rashun) i tried so hard to get it out. Every time i dropped it daddy would pick it up and take the treat and give me this cup thing again and daddy put the treat back in.
It took me ages to get the treat.
Here are a few videos of what happened.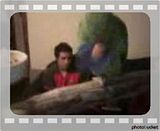 My mummy and daddy didnt get a video of me when i got the treat i think they were too happy that i worked it out.
Just between you and me they are silly, i get treats and act silly so they laugh at me and keep helping me out and giving me treats, but all i have to do is put the cup down and get the treat out.
Jasper