Hello Everyone
I have been crawling the internet for a parrot forum of some kind because we need some help with our Indian Ringneck - Techno.
The story....we went to the pet store to get some finches and canaries and came home with Mr.T our Cockatiel. We loved having a parrot so much we went and got another Cockatiel. Our Cockatiels arent hand tame or trained and will go outside into an avairy with out two love birds when we buy our home. Currently they are inside. After going on holidays and seeing heaps of Ringnecks at a place we stayed we came home and read up about them. We really wanted a parrot we could play with and take out of its cage and fell in lvoe with Ringnecks. I originally wanted a lilac coloured one but after searching for ages we settled on one i seen in a pet store. Our pet store we go to got a grey Ringneck in but the person the got him (sorry we call it a him even though we dont know what the sex is yet) in for never came to take him. He was crammed in a small cage with four Cockatiels and was getting picked on. He sat in this cage for a few weeks, with constant Reserved signs on him but he was never taken home. So after a month and a half i couldnt stand seeing him in that condition anymore so we bought him. Like a good pet owner i researched how big these birds grow and went out and got him a big parrot cage. He sits in our lounge room where our cockatiels and love birds also are. (It gets quite noisey in there sometimes!!)
Its been a couple of months now, he is in great health. His matted and wrecked feathers are regrowing and he is putting on weight. He has a daily diet of sprouts etc, Tropimix, apples, carrots, broccolli and seeds and loves having a bath. His seeds are from the store we get him from as they sell breeders seeds etc. We are how ever having problems with his behaviour. We have tried to train him to come out of the cage on our arm but he wont have a bar of it. He loves to wonder out of his own accord when we leave the door open and flap down to the ground which doesnt bother us. He steps up onto the towel when i put it infront of him and i carry him round on it. He does however sometimes refuse to step onto it. He snuck out his food bowl door one day like a smart boy. His wings are clipped. He doesnt mind being taken round the house on our blue towel but we would love for him to be able to be handled. (I think he might of suffered a bit of rough handling at the pet shop?) He started letting us pat him
through the bars about a month ago but he still snaps at us. He constantly chews EVERYTHING when he is out of his cage. If he climbs up us, he chews us to and bites us. When he bites he doesnt let go either. We sat him on our shoulder the other day and he bit our ear
:O Do pet shop birds grow out of this? He will take food from our hands when we offer it to him but if we arent, then he will snap at us.
He also screeches like a laser gun gone going off. He does this funky dance back and forward really fast and then he screeches when we walk down the stairs outside or if he sees us coming home. We leave the radio on but that doesnt seem to help. He makes noises like hes content when we pat him but he isnt talking yet. Granted we dont spend as much time with him as we would love to as i work nights and my other half works days. My fiancee' is going to start taking him into his room when he is on the computer but we are worried he is going to chew through a cord or something and the fact that he wont stop biting. he has toys in his cage to play with so he isnt bored. He is a bit of an acrobat in his cage to. We cover his cage at night an leave a nightlight on so there isnt total darkness as this seems to be what the birds like. He gets a good 8-12hrs of sleep a night and wakes up when we do.
Is this behaviour going to subside by spending more time with him? The biting is really putting us off as he leaves bruises. He has only drawn blood once. I thought he may be of gotten off to a bad start at the pet store or something. We have a couple of friends who have birds they take out of their cage and they trained them really easily. We just cant seem to do it....or maybe we are doing it wrong? We would really love him to talk to. Im also wondering if the addition of a mirror might encourage him to talk? He is pretty stimulated by the other birds with the natural calling but im not sure how to get him to talk.
So this is our handsome fella...or girl lol...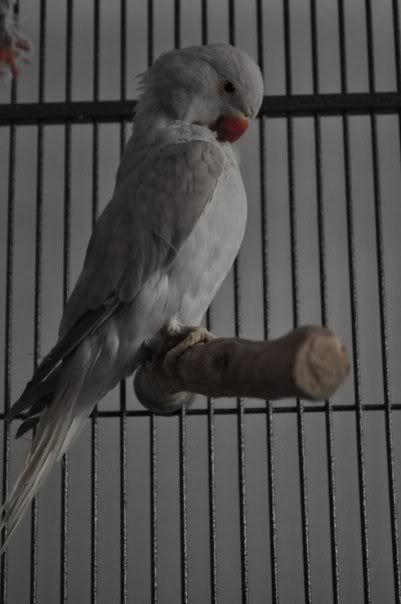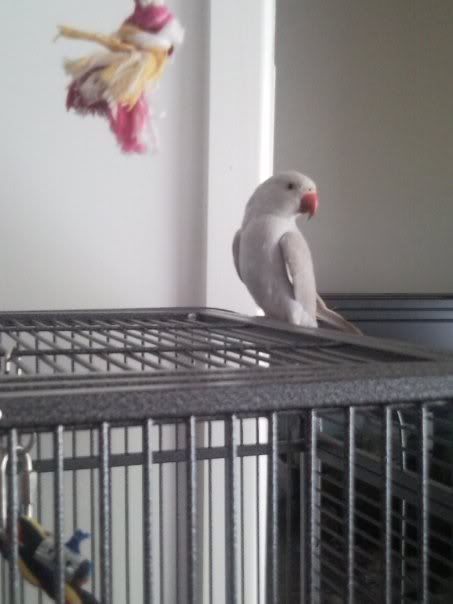 Doing the laundry...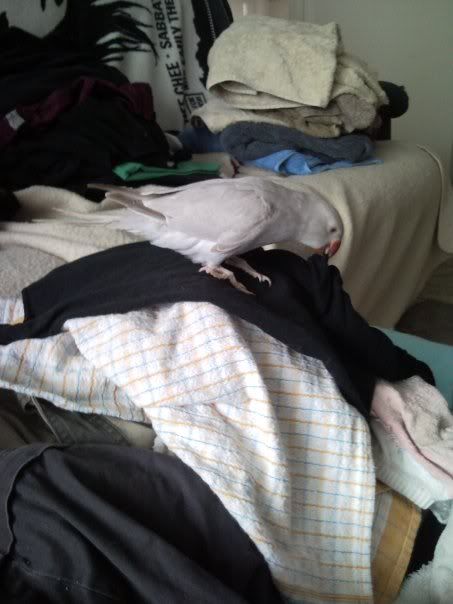 The towel he prefers more than our skin..