I was given a Blue Indian Ring neck by a kind man, whom had a son grow into his teenage years and he begun to terrorize the bird. He would blow smoke on her, poke her with a stick, and simply stress the bird out repeatedly.
The father had enough and made a post on a local forum giving the bird away to a good home, I answer the post and so did several others and I was the lucky one that got chosen.
When Nikki arrived at my house this is how she looked, she usually sat with her head low and ready to charge and bite, I believe she sat in this manner in a attempt to defend herself from the abusive treatment she was receiving...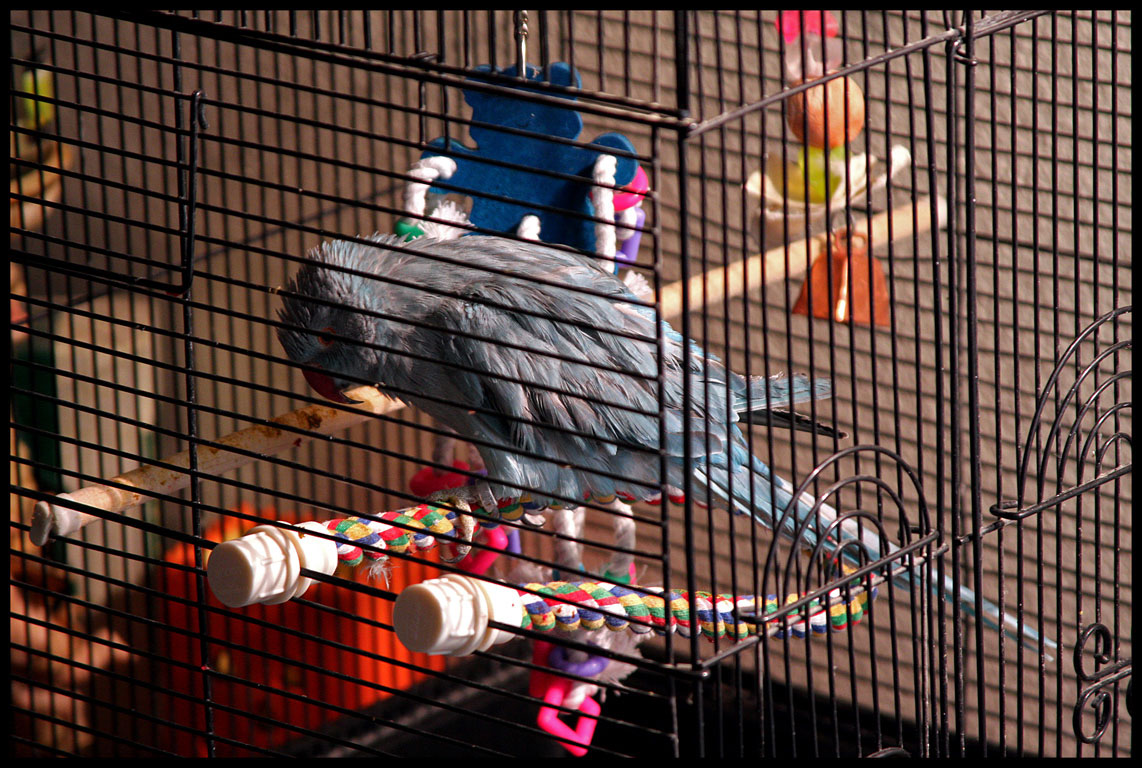 you will notice her feathers are ruffled and look rather odd, you can see she is stressed, and her color was very poor..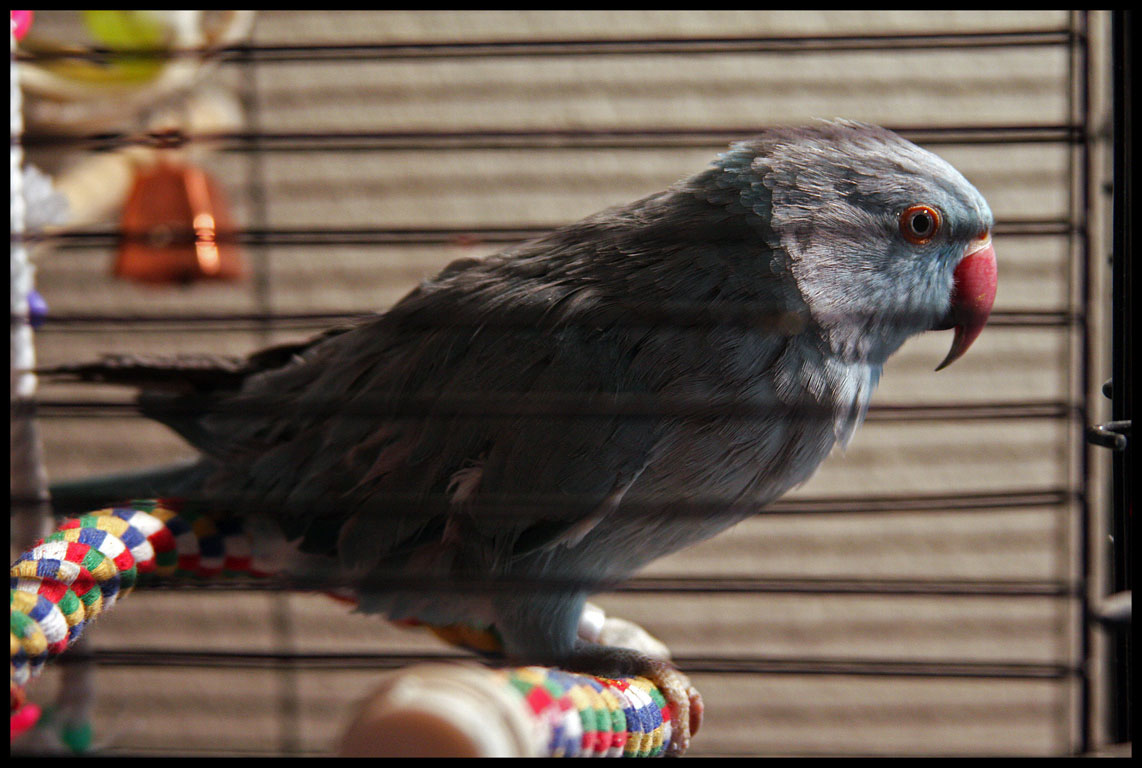 Nikki just hated humans, and she would lunge and attack and charge at the site of us. If anybody got next to her cage she would attack one of her many toys and swing her head in a rapid fashion in a attempt I believe to scare us off.
I could see phyiscal trama to her but I always wondered what emotional damage had been done and if she could ever be normal.. I longed to hold this precious creature but she wouldn't have it...
I fed her cockatail seeds as that was what she was used to as well as fresh fruit on a daily basis, and bread and sometimes white chicken meat, she had no issues taking in her claw what was offered, would eat and go back to charging and attacking, in a low stance, shaking with her eyes doing funny things..
as time went on Nikki got somewhat better, she started to regain her color, her feathers started looking more natural. I bought her a large large cage, as she spent 8 years in a rather small finch type bird cage.
I tell Nikki on a daily basis how much I love her and would never hurt her, I play music for her, a very special song called 'Rescue Me' that she enjoys very much, 1st time she heard this song she began mumbling words. The previous owner said she could speak but hadn't in years..
these images were shot of her yesterday, after owning her for 4 months:
As you can see Nikki now has her wonderful color back. She has full flight feathers and has got out of her cage and flown around my house, probably for the 1st time in many years of her life.
Just today, Nikki was on the loose on my couch (which she quickly pooped on)..
I extended my hand to her, I was very nervous and shaking, and so was she..... this is what happened, for the 1st time since I owned her and it had probably been years for her since she last did this...
She lovingly made herself at home, as I was getting a kiss from my Lorie, my precious little Lucy: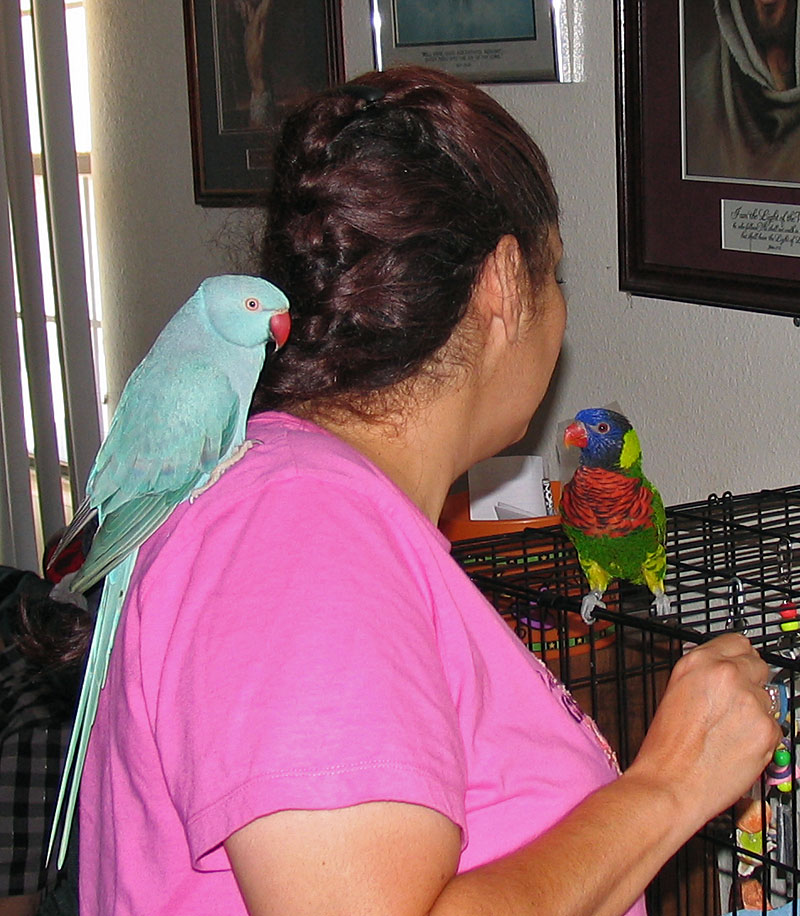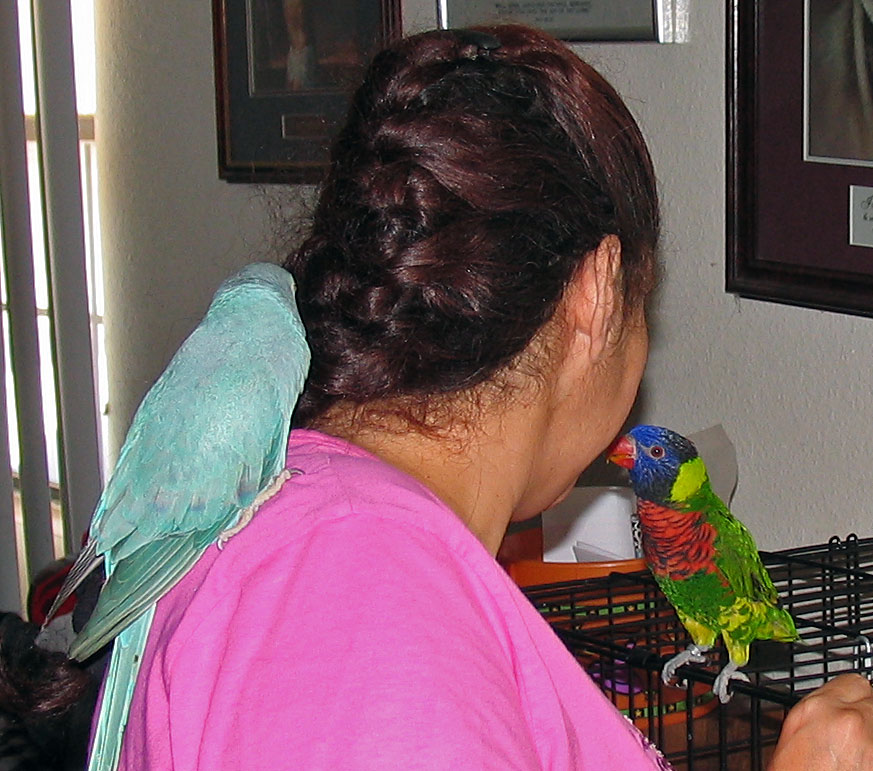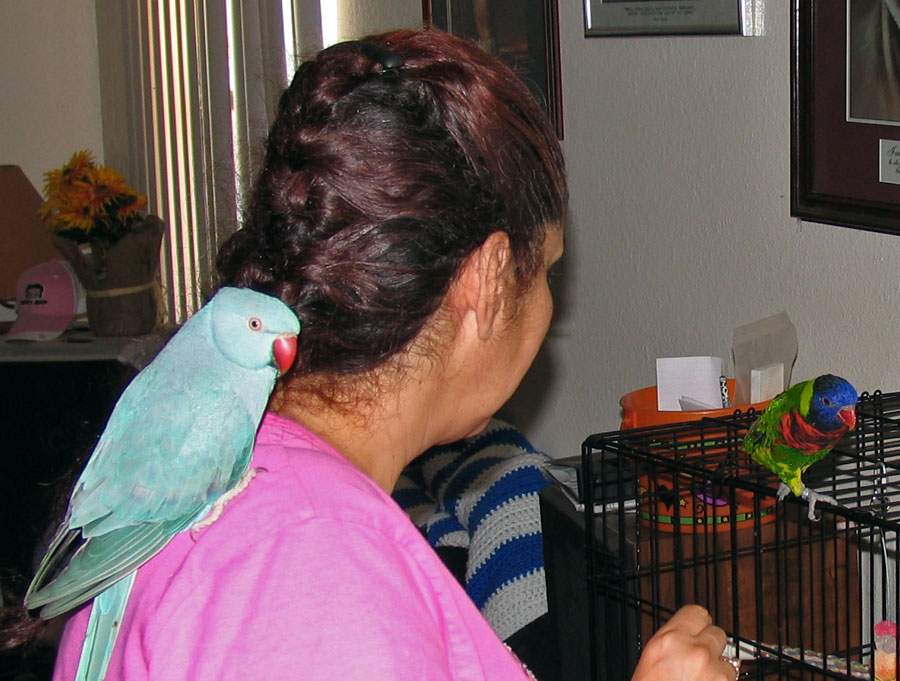 today is a very happy day for me and Nikki, but much work remains with her... she is my baby now....