Hey guys!
These are my fids Morph & Sprocket!!! I love that you call them fids, genius!!!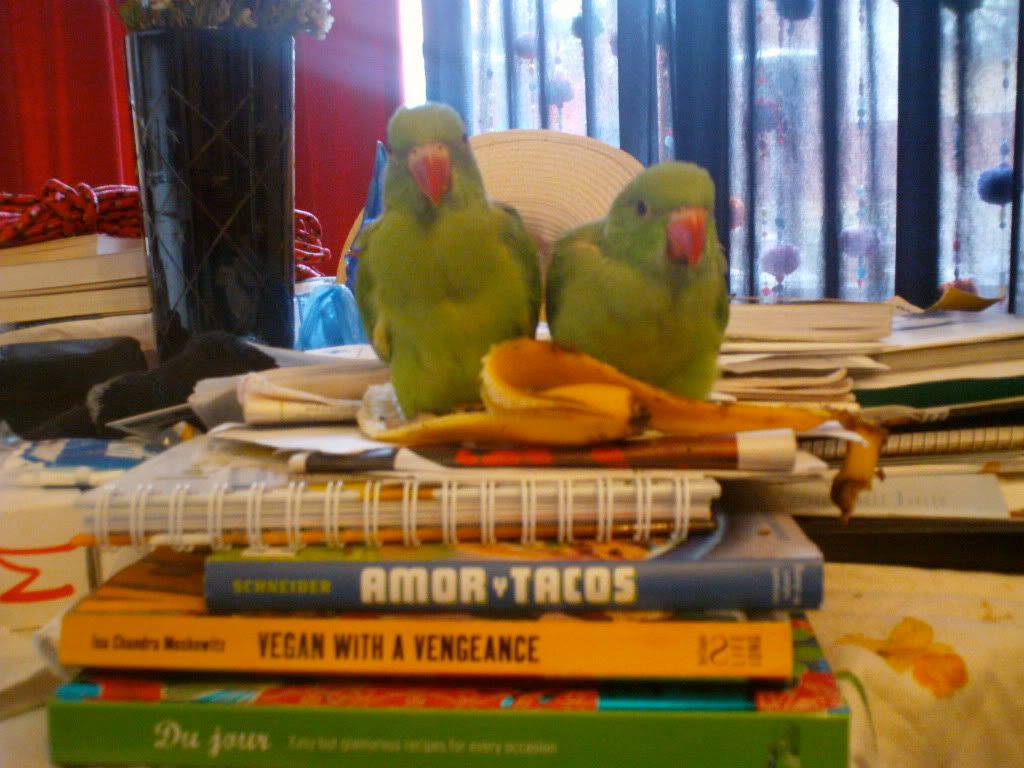 (hope that worked, it's been a long while since i've posted in a forum!)
My boyfriend had talked about getting a parrot for ages whereas I was happy to take it or leave it not really fancying the responsibility of having pets. Now I can't imagine life without them! We got Sprocket on a friday afternoon and were pretty keen for him to have a little friend so that they could learn from one another, stay warm when it gets cold and generally just do bird stuff together and keep each other company when we're not there. Luckily the breeder had one of their other buyers fall through and we went and picked up morph the next day. One of the other baby birds was beautiful and yellow but it was so timid and frightened. I'm really happy we ended up with the two we've got, they've got great little personalities!
This is my first time as a bird owner and for the first week I was so worried about making sure that we were looking after them correctly. We started off trying to feed them this formula stuff with a bent up spoon and I found it so distressing. Thankfully that only lasted a couple of days because as soon as we put some fresh fruit in front of their beaks they were off and now they feed themselves! A lot! Sometimes I wonder how they pack it all in! I find it fascinating how their poo's change after they've eaten different things, does that make me weird?
Sprocket is definitely the more adventurous and stronger of the two. Morph is way more chilled out. Morph will lay down on your chest for a nice cuddle whereas Sprocket just wants to fly. It doesn't take long for Morph to copy what Sprocket does and they're both flying so well already! When we got them I would take them out the front to get the mail and the second day we had them Sprocket was already sitting on my shoulder down at the local Bunnings, but now.. NO WAY! After only a couple of weeks they've figured out how to fly and I'm terrified that they'll take off and I'll never see me fids again! Before they could fly they would sit with us and hang which was awesome but now it's like they get bored so they fly off and go hang out on top of the curtain railing. So depressing ha ha! At some stage we want to get their wings clipped but I feel like a big meanie doing it now because they look like they're having so much fun. My boyfriend wants to because I think he thinks that it'll help us tame them but I'm not sure which is why I'm here basically! To chat with you all, hear your experiences and figure all that sorta stuff out!
So glad I found this community. Let me know if i talk too much
I just love my new little friends so much!!
Look forward to chatting some more!