Moderator: Mods
I got billy some new toys and they went down very well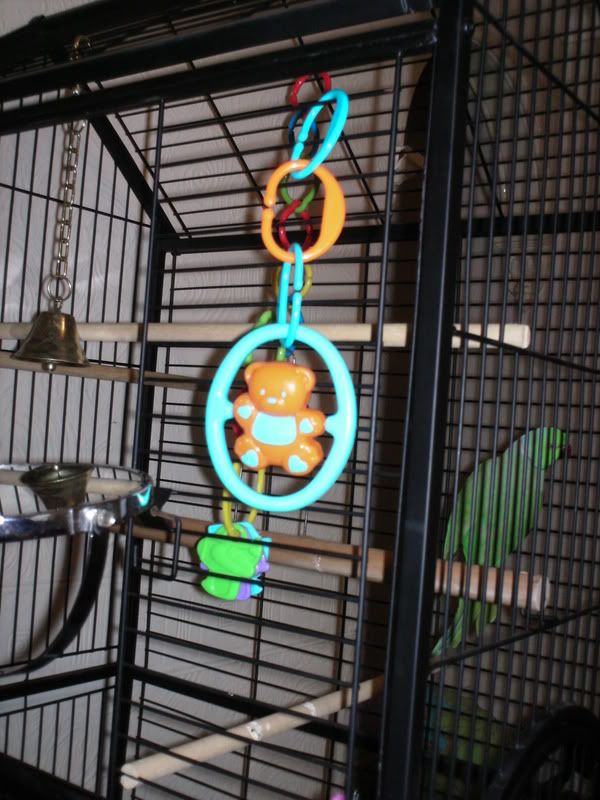 Mum to Harvey(little boy) Satan RIP, Missy moos(Staffy bull) Billy(green irn) Sir didymus(grey irn) and Isis(cockatiel), Lucy (caique)
---
---
billy having a ball there
he so cute when hes happy i think im
going to check out baby toys
for my guys now never thought of that before
he definitly loves the set of keys!
---
Its a box set my son got some for christmas and billy kept trying to steal them we gave him the phone, rattle and one of the balls but he wasnt happy he wanted all his own
so i gave in and give him his own set
Mum to Harvey(little boy) Satan RIP, Missy moos(Staffy bull) Billy(green irn) Sir didymus(grey irn) and Isis(cockatiel), Lucy (caique)
---
Moderator
Posts: 903
Joined: Sat Jan 08, 2005 2:49 am
Location: New Zealand
Contact:
Very cool, he looks spoilt!!!
-Chamon-
---
spoilt birdys!!
just want we want to see
yay!!!!
---
Posts: 2606
Joined: Thu Oct 11, 2007 11:35 pm
Location: Central West NSW Australia
Contact:
Yeah baby toys make good bird toys. They don't seem to break easily either.
---
hmmm i feel a shopping trip coming on!!!!!
i love seeing the fids check out new toys!!!
---
Datsun and Family wrote:Very cool, he looks spoilt!!!
Yeah he is very spoilt
i cant control myself
Mum to Harvey(little boy) Satan RIP, Missy moos(Staffy bull) Billy(green irn) Sir didymus(grey irn) and Isis(cockatiel), Lucy (caique)
---
---
Who is online
Users browsing this forum: No registered users and 1 guest