Moderator: Mods
there now 8 weeks old and refusing all formula feeds and flying now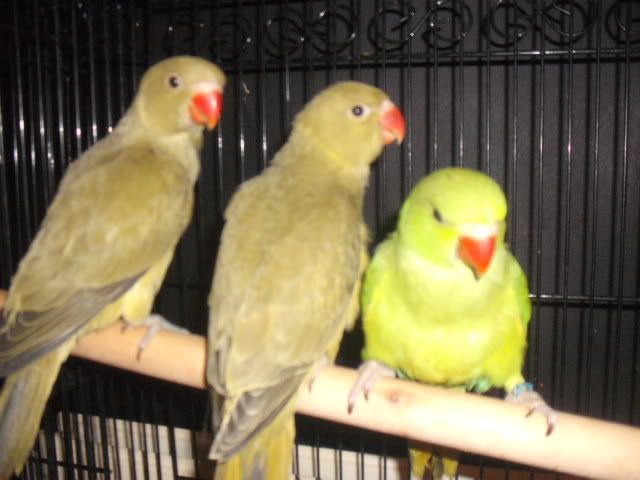 ---
They look like there close to eachother
nice IRN'S
---
Cute beautiful birds! hope all goes well with them!
A
z
u
r
e
Just a "bookworm" (or rather an internetworm?) who has no ringneck(s) but REALLY wants a cobalt or violet
---
They are so lovely Kenny! lol can you post a picture of that plant in a year from now?
---
lol can you post a picture of that plant in a year from now?[/quote]

Lol will be none left
---
the plants not real thats were they all flew to first the two olives are close the light green is close to me lol when its in his cage it squaks at me to get him out as soon as hes out he goes striaght to my shoulder and stays there and proberly would stay there all day
wich his good for me as hes the one im keeping the other two are going to my m8 and my dad
---
Posts: 2588
Joined: Thu Oct 11, 2007 11:35 pm
Location: Central West NSW Australia
Contact:
They are so cute at that age. Lovely looking babies.
---
well now down to 1 of them wich i have desided to keep as he loves following me around and sitting with me so hard to let him go so i have galled him or her alex
---
Ariahna wrote:Ahhh that is great news. Which one is he in these pictures? Or better yet, maybe you could post a recent picture of Alex?

I never get tired of looking at pictures of IRNs.
ill try post one later on of him he is light green one hes been my fav since the start
and at 8 week old he escaped the house into to wild for 2 whole weeks and when i just giving up hope on ever getting bk i got a phone call to say sum had just found him in there back garden so i rush up to pick him up and look a bit sad he biten the person that found but as soon i put my hand to him he jump straight on so wen i got him i just put him his cage for 20 mins to settle bk in and since then he been back to normal with me fallow me every where if i go out of a room he shouts for me he had a bit of dried blood on his neck so i bathed him but the were no cuts on him i feel really lucky of got him back
---