Moderator: Mods
---
Posts: 72
Joined: Thu Apr 06, 2006 12:31 am
Location: SW Western Australia
That's a beautiful alex you have there. Summa Lee sounds lovely.
---
Thank you....I am still trying to get close to how old she/he is. They told me about 1 1/2. Did you notice that her bottom beak is still cream colored? I seen someone's picture and the bottom beak was the same color as the top beak.
---
Ok so I soooo want an Alex! *jealous*
Anyway yours is gorgeous...boy or girl!
Dani and Prinny
---
My Alice is just over a year... hrm.... one year and three months... plus a few days LOL.
Her lower mandible is a lighter color than her upper, but her eyes have lightened already. Looks like, unless your baby is pinning, your baby still has rather deep colored eyes? Alice's eyes changed at about nine months.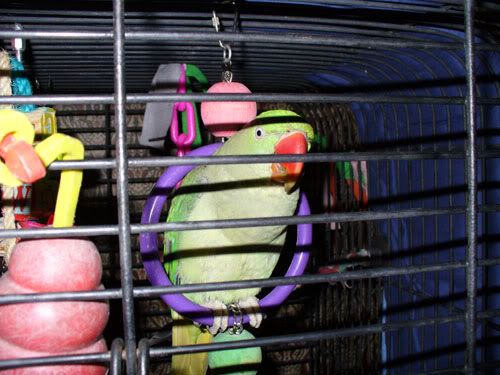 Thats my turkey girl today, this morning. She has taken to sleeping in that toy LOL. I kind of worry about it being hard on the feet, but so far so good.
Athena

---
---
Athena! I just love that bird of yours...she is so cute and sweet looking (though no matter how cute they look they can still be the Devil incarnate
)
I sure wish you'd post more pics of your lovely birds! *hint hint*
Dani and Prinny
---