Hi Everyone, This could be a really long post so thanks for reading in advance.
I just acquired a 5yr old Female Alexandrine this weekend unseen.
I was told her feathers are always a bit scruffy around her red on the wings. What I see is not scruffy, its an issue.
The previous owners took her to the vet about it and I have the blood results but they are in hubbys car so I cant post them up until he gets home.
It looks like her red is going through a molt, that or her red wing feathers don't even exist and they are just a constant baby fluff? Surely something will cause this?
She was being fed on Vetafarm Maintenance Pellets and Fresh fruit and vegetables. She has no idea what a nut is nor seed.
She preens herself quite well from what I have seen in the last 24hrs, Her beak looks slightly narrower than my Inlaw's Alex's I don't think she is a pure Alex either she seems slightly smaller than my Inlaw's Hens.
Here is a pic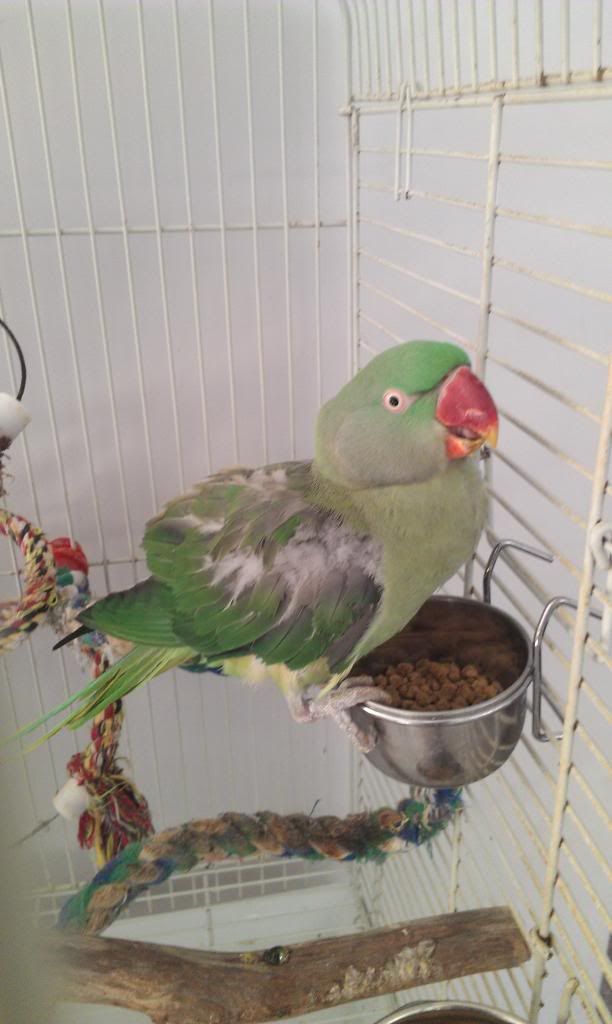 While I have also got you, she has no clue how to use her feet to pick anything up, How can I encourage her to start doing that?
I have a feeling she didn't have a very enriched life
She was hand raised but I don't think she has been handled much at all, My husband was trying to get her to step up last night and she didn't attack him or anything but she didn't want to sit on his hand either.
I feel like we have a loooong road ahead, I feel deflated the previous owner really talked her up and I got a friend who knows nothing about birds to pick her up for me so it was either drive 4hrs to take her back or keep her and work with her as much as I can.