Contest WINNERS!
These are the "winners" of my little unofficial PIC contest to benefit the Pittsburgh chapter of PEAC, Parrot Education and Adoption Center. I finished the last one yesterday and got up early this morning to get them all scanned and posted. I am grateful to all who sent in all of the wonderful PICS.
This one was sent to me by Melika. The background was inspired by another of her PICS. I can't resist using natural looking backgrounds.
Melika wrote;
Tsume on the left, Hane on the right.
Tsume is a very goofy bird, likes heights and vertical perches.
Tsume will clean his beak on any surface, he just likes it clean and loves
to rub his head on things but doesn't like to be pet. He's noisy and loves
talking. He loves treats and begins singing and going through his vocab,
pinning his eyes and dancing as soon as he sees his treat dish. Tsume is a
little high-strung and gets stuck in the most peculiar poses, his feet on
different objects and nowhere to go. But he loves his person, Amikira (my
sister). He takes a little while to get used to new things, and he loves
baths in the sink. New people take some getting used to, but they're okay if
they're calm. His favorite activity is destroying paper.
Hane usually minds his own business unless Tsume bugs him, at which point he
will retaliate in kind. Hane likes to be near the camera, he's a picture
hog. He is calm, usually quiet and only speaks when spoken to. He loves his
toys and is playing on them before I can finish installing them in his cage.
He LOVES food and will gorge himself silly, if allowed. He'll try anything
new at least once. He likes to steal the rawhides from the dogs by biting
their paws until they give it up. He's bold, loves meeting new people but
will latch onto anything shiny (jewelry) and not let go (my fault for not
wearing any...). His favorite activity is trying to woo my sister.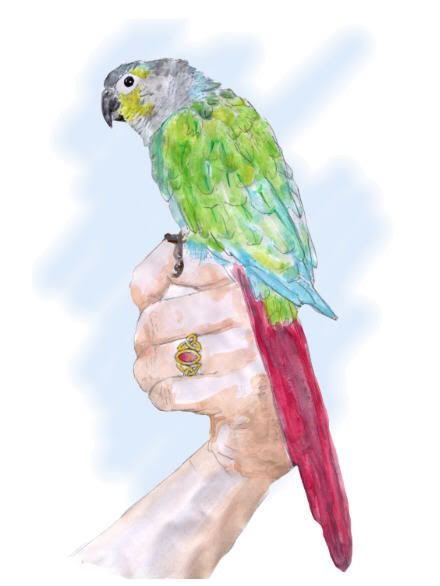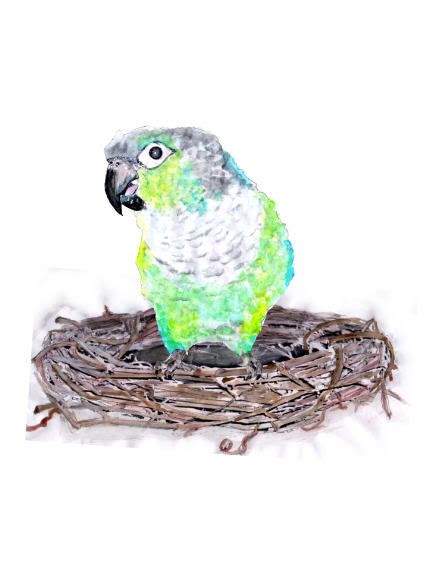 It was my pleasure to paint two of little Dragonfly in tribute, she reminds me of my own little conure, Lucky Bird.
Swanwillow wrote;
"Dragonfly. She was sold as a Green cheek conure, and I later found out
that she was most likely a Santa Cruz conure. She was a brat.. Loved
me, but would divebomb people for fun. I could see her laughing as she
did it. She's passed now, was killed by a cat. She was such a doll, and I miss her every day."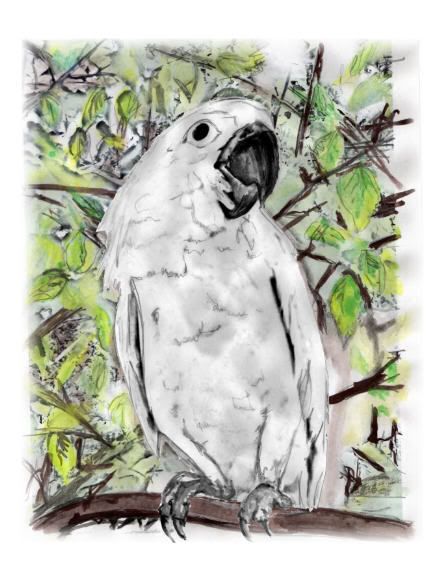 The Umbrella Cockatoo B.J. is the love of my life. I rescued his mother from people that did not know how to handle her and was afraid of her. I kept his mother for 7 years and she constantly showed me she wanted to be a mother. Knowing that it is very difficult to breed cockatoo's I was reluctant to put her in a breeding program but had a close friend that bred Umbrella cockatoo's and her female had passed away and the male was very depressed. So we took Jasmine (B.J.'s ) mother to my friend and I told her if it didn't work out I would gladly take her back. Well guess what? The two birds fell in love and their first born was B.J. WE were going to name it Jasmine after his mother but DNA told us he was a boy so his fathers name was Baby and mother was Jasmine and that's how B.J. got his name. He will be a year old Jan.30th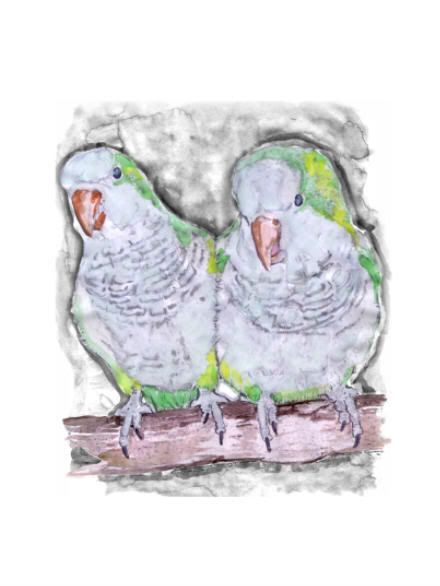 From Donna;
The 2 Quakers Kiwi on the left and Elvis on the right.
They were left on my door step with a note attached to their tiny cage that said "We don't want these mean birds my children are afraid of them". I took them in put them in separate cages and started them on a good diet. Kiwi loved to play on my shoulder and she would preen my hair for hours and she liked to whisper in your ear. Elvis was a little more of a challenge to tame, he loved being out on his play gym but if Kiwi was around he would defend her and protect her any way he could. Elvis loved to play tug of war with his food dishes when I would want to change food and water.
They have been rehomed to separate families now and both are loved and spoiled rotten.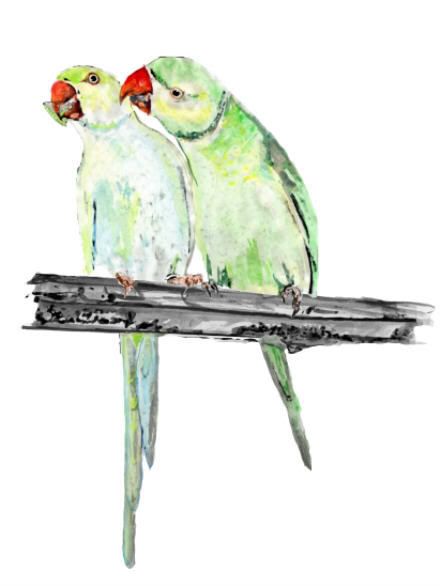 This beautiful pair of Indian ring necks was painted from a PIC sent to me by Julie. Someone doesn't want to share!
Big thanks to all who helped with PICS and support! Hopefully these prints will help to raise more than a little "chicken feed" for PEAC.
Dan AKA BigChicken